A Vending Machine a Day Since 2005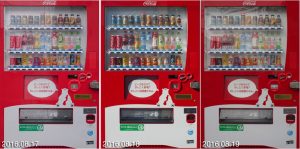 Although we love everything Vending at Apple Vending, this website takes the biscuit. A blogger in Japan has been posting a picture of the same vending machine since 2005.
Vending Machines Japan
Vending machines are quite ubiquitous in Japan, and the country has vending machines for just about everything. Motomachi, the blog owner says he has "no interest in the vending machine itself or its contents." The reason why he started this blog was he wanted to do something he could update daily, but that doesn't take up more than five minutes of his time.
We admire his commitment to the vending cause, but wonder at the ongoing interest in one machine. Although to be fair the vending machine does change slightly over time with stock levels and changing environment, still the phrase 'watching paint dry' springs to mind.